What is
Solar Electric Vehicle Charging Stations

?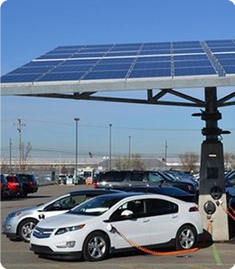 A solar EV Charging Station converts clean Solar Energy into Electricity to charge Electrical vehicles. In the such system :
PV Module Generate Direct Current Electricity
This DC Current is converted to AC Current by Inverter to charge the Vehicle
When there is no vehicle charging, electrical energy is sent to the Battery to store energy
When there is no generation of electricity by the PV Module, especially after sunset, this stored energy from Battery is sent to the inverter to charge Vehicles
Megamax Solar provides after Sales services to all such EV Charging stations for smooth and trouble-free operation.